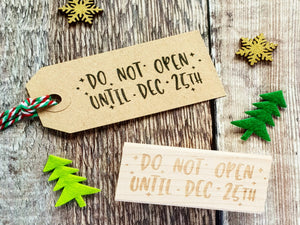 Do Not Open Until Dec 25th Rubber Stamp, perfect for gift tags and homemade gift wrap plus, it can be reused year after year!
The image when stamped is approximately 5.8cm x 2.4cm (2 1/4" x 1").
All Skull and Cross Buns rubber stamps are proudly made to the highest quality in their little studio nestled deep within the Devonshire countryside, UK. 
Featuring a carefully designed cushion mount with high quality rubber design onto handmade 'hourglass' shaped wooden blocks for easy stamping giving perfect impressions every time.
Ink pads not included, available to order separately from here.
Eco Credentials
Made in the UK
Plastic free
Suports small businesses
Reusable many, many times!
 Note from maker: Stamp design © Skull and Cross Buns and covered by an Angel Policy; the stamps may be hand-stamped on items for sale in small scale batches but the stamp designs may not be reproduced in other ways or form branding/logos. Thank you.